​Our Fleet
Fly on a new Boeing 737 - 900ER
Our Fleet
Lion Air currently operates Boeing 737-900ER, Boeing 737-800NG, Boeing 747-400 and Airbus A330-300 aircraft. To accommodate the high demand for air transport, Lion Air chose single-aisle commercial aircraft with highly efficient for domestic flights as well as commercial aircraft with double aisle for international flights that can accommodate many passengers.

Lion Air received its first 737-900ER in April 2007, the aircraft arrived with a special dual paint scheme that combined the Lion Air emblem on the vertical stabilizer and the Boeing design colors on the fuselage. Aircraft with an efficient use of fuels could reduce carbon emissions by 4%, so that the possibility of bringing a smaller carbon footprint every time you travel with the B737-900ER. This mighty aircraft can fly about 500 miles above the sea, up to 3,200 nm (5,925km) to the AUX tank. Lion Air is the first user of Boeing hybrid aircraft in Asia. Lion Air took delivery of 15 units of other B737-900ER aircraft in December 2008 that the overall aircraft are configured in economy class with a total of 215 seats each plane. And until now, Lion Air has 71 Boeing 737-900ER aircraft.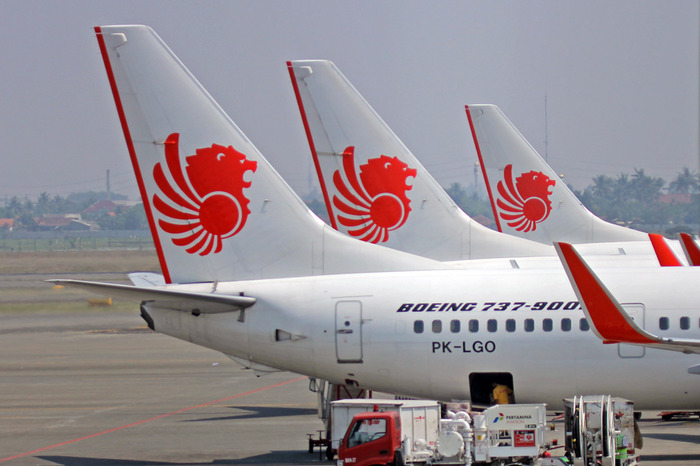 After sensing the efficiency of fuel use on Boeing 737-900ER aircraft, Lion Air also tried to operate Boeing 737-800NG since 2012. The Boeing 737-800NG owned Lion Air has a single-class configuration and can carry as many as 189 passengers. Until now Lion Air has 32 units of Boeing 737-800NG. With the recent addition of Boeing 737-800NG on Lion Air's fleet, it will allow the airline to offer more non-stop flights at affordable rates to many destinations.

In addition to small-bodied aircraft, Lion Air also has a Boeing 747-400 aircraft which is the first largest fleet owned by Lion Air. Brought in 2009, the aircraft which is also known as the Jumbo Jet has four engines and can fly at a speed of mach 0.85 or 909 kilometers per hour and capable of flying at a maximum distance of 13 570 km to 15,000 km. Currently Lion Air has two Boeing 747-400 aircraft, and the aircraft can carry 506 passengers.

The latest fleet of wide-bodied aircraft belonging to Lion Air is the Airbus A330-300. This aircraft use the Rolls-Royce Trent 700 engines and configured in a single class that can carry as many as 440 passengers. Brought in November 2015, Lion Air has three Airbus A330-300 aircraft.