E-Payment
Now you can book your flight with Lion Air and you have many convenient e-payment options. All you need is your Booking Code (PNR) and the Payment Code.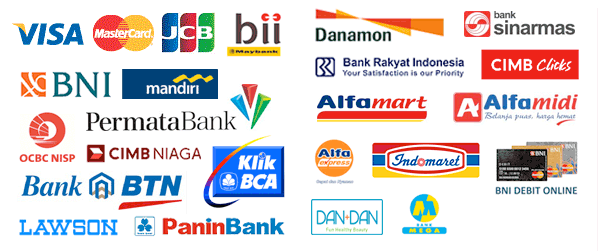 E-Payment
Book anywhere and pay online using your VISA or MasterCard credit card.
ATM Payment or ALFA group counter or Indomaret
Pay at your nearest ATM (only applicable in Indonesia at BII Bank, Bank BCA, BNI Bank, BRI Bank, Bukopin Bank, CIMB Niaga, Mandiri Bank, Panin Bank, PermataBank, BTN Bank, Bank Sinarmas, Bank Danamon, Bank Mega and Bank NISP) or ALFA group counters (Alfamart, Alfamidi, Alfaexpress and Lawson) or Indomaret.
Internet Banking
Book anywhere Pay via your internet banking CIMB Clicks, Mandiri Bank, BNI Bank, Klik BCA, Bank Sinarmas, PermataNet, Mandiri Clickpay, Panin Bank and Internet business Panin Bank.
SMS Banking and Mandiri Call Banking
From Bank Mandiri.
SMS Banking and Mandiri Call Banking
At Permata Shop from Bank Permata, Simobi from Bank Sinarmas, Go Mobile from CIMB Niaga and Panin Bank.